The Hedgehog and The Fox
Jump to navigation
Jump to search
Content Warning: This page or the logs related to it contain graphic violence, blood and gore.

Hello, Darling.
Jennie's past starts to catch up with her, as a serial killer in Copenhagen has started copycatting another killer she previously brought to justice. And whose victims all bear a striking resemblance to her.
Cast
Jennie Stavros, Clinton Barton
Donal McGrath, The Disciples, Clarent House (flashback)
Timing
Plot Summary
A serial killer has been operating in Denmark since the summer, with methods that bear a striking resemblance to another serial killer in London, known as the Croydon Killer. Jennie is forced to admit that the new killer in Denmark may be the work of her former partner, Donal McGrath, especially when it becomes evident that the killer is specifically targeting dancers who look like her.
Clint Barton argues his way into accompanying Jennie to Copenhagen, where they contact the police under of one Jennie's old aliases, Inspector Jennifer Green of the London Metropolitan Police. Using the clues provided, they track Donal to an abandoned canning factory overlooking the ocean. They receive word that he's taken another victim, and they rush to save her.
Meanwhile, through a series of flashbacks, it's revealed that not only was Donal Jennie's student, friend and partner, he was also her lover and eventual fiancé, finally explaining his desire to hunt and kill Jennie as his act of loyalty to Mother.
Jennie confronts Donal in an effort to save his latest victim, while Clint hangs back to provide cover. Unfortunately, both are attacked and it's revealed that the serial killings were a cover for Mother's real ambition, to steal a priceless jewel from The Danish National Museum, which is rumored to have magical properties, giving the bearer long life when coupled with another gem that had previously disappeared during WW2.
Jennie engages Donal in a no-holds barred fight, and he nearly gains the upper hand, but his manner becomes more and more unhinged as the fight progresses. Finally, she attaches an incendiary device to him, but the resulting explosion leaves no trace of a body, leaving it in question whether or not it actually killed him.
Finishing off Clint's attacker with a well-timed rocket launcher, Jennie and Clint escape back to the states, leaving them with more questions than answers as to what Mother is actually doing, and what her plans are for the gem.
Related Links
External Links
Trivia and Meta
Trivia
All log titles are song titles, including the two from the confrontation at the cannery. They are an English translation from a song by the German band Oomph! Beim ersten mal tut's immer weh.
Technically, this was an event.
Meta
Plotrunner: Azzy

Azzy also created a poster for the overall Jennie arc "Nemesis" of which this event and Into The Fog were part. She left the game before completing the series.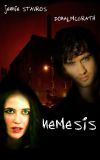 Click on the image for the full-sized version.